Gabriel "Gabe" Borges
Youth Hunt 2007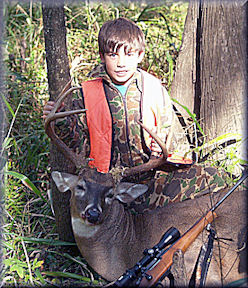 "My First Buck"
My name is Gabe Borges and I'm 10 years old. I shot my first buck on Sunday October 28, 2007 at 8am. It was about 5am when my Dad woke me up on Sunday. I got all my stuff on and headed out with my Dad and brother Christian for the morning hunt. My Dad and I dropped Christian off at his stand about 5:45 am and him and I walked to our stand on a long power line. Sunday morning was beautiful. The weather was clear and kinda cold. After sitting and watching we saw a big doe walk out. My Dad said, "shoot her" she's coming this way, but I did not shoot. Then at about 7:00am another doe walked out of the woods and my Dad said to take aim. So I got ready, aimed and shot. The doe jumped up in the air about 3 feet and ran. I told my Dad I think I hit her in the side. My Dad said we should just wait and we will go look for her in a couple of hours. Since it was so early we stayed in the stand and waited to see if anything else would walk out. At 8:00am a doe and two babies walked out and crossed over into the hills. Just as they were going to walk into the woods the two fawns looked back into the woods. I looked back and the big buck walked out about 30 yards away. My Dad said " Shoot him". When I looked through the scope he was walking away but my Dad made him stop by making a noise. He stopped and I shot. The deer ran very fast back into the swamp and my Dad said I might have missed him. He did say that the buck ran off with his tail down and that sometimes means he's been hit. I was so mad and upset that I might have missed. We waited for a little while before we went to go look for blood. When we got down from the stand we looked and looked and did not find even a drop of blood so my Dad said we should go back to the house and get Mr.. Randy and his dog. I told my Dad I know I had to hit the deer I put the scope right on him. When we got back to the stand we let the dog go and in about 5 minutes he found the buck about 100 yards away. I told my Dad " I can't believe it". I told my Dad "I told you I hit him". I was so Happy! After we shot a bunch of pictures we drug the deer to the truck and then went to look for the doe. Blacky the dog found her in about 10 seconds. I couldn't believe my first youth hunt. That's how I killed my first deer. I hope you've enjoyed reading it.
Also with him: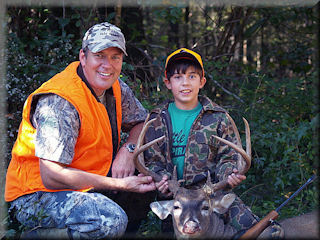 Craig Borges - Father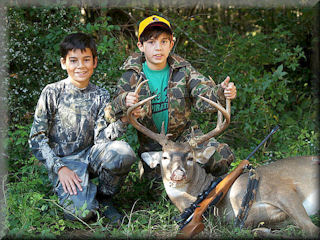 Brother- Christian
Accomplished Hunter Himself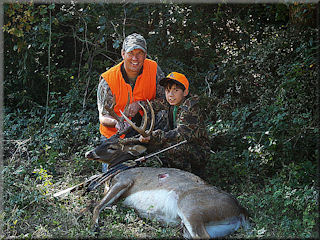 Craig and Gabe with trophy!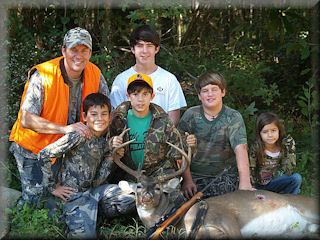 Craig- sons Christian and Gabe
Cliff Hall Jr. (above) and Joshua Hall
and Isbel Borges on right.


Congratulations 'Gabe'


COPYRIGHT © 1999-2007 WIDEWORLDOFHUNTING.COM ™, WWH™ , WWOH™ , WIDE WORLD OF HUNTING AND THE GREAT OUTDOORS ™, DEERDOPE ™ ,WIDE WORLD OF HUNTING™