WideWorldofHunting DeerDope African Big Game Safaris Whitetail Deer Sounds Buck Grunts Doe Bleats Fawn Bleats
A WIDE WORLD OF HUNTING
and the
GREAT OUTDOORS
Locked Whitetail Deer Horns or Antlers. Locked Whitetail Deer. Bow Hunting for Whitetail Deer. Hunting Locked Whitetails.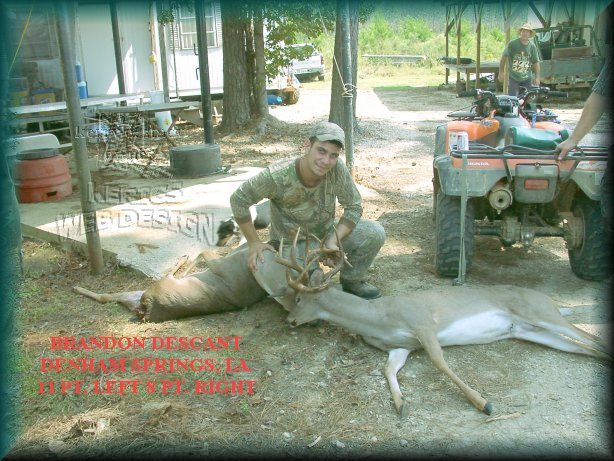 NOT IN MOST HUNTER'S WILDEST DREAMS
BUT THIS DREAM CAME TRUE FOR :
More Pictures BRANDON DESCANT OF DENHAM SPRINGS LOUISIANA
Pictures Below OPENING BOW SEASON OCTOBER 1, 2005
MORE PHOTOS BELOW AND MORE TO COME
MOST HUNTERS FACE THE OPENING OF DEER SEASON WITH MUCH ANTICIPATION. THEY'VE WORKED HARD TO GET THEIR STANDS READY AND BE READY THEMSELVES. BUT THIS WAS NOT TO BE ANY OPENING MORNING FOR BRANDON.
A BORROWED BOW FROM 2 DAYS EARLIER AND A QUICK SITE IN OF THE BOW PROVED TO HAVE BEEN WORTHWHILE.
SPOTTING WHAT HE THOUGHT WAS MOVEMENT FROM HIS LOCK ON STAND HE CLIMBED DOWN TO INVESTIGATE, SUDDENLY HE SEES A SET OF HORNS, NO 2 SETS OF HORNS, 2 LOCKED BUCKS, ONE NICE 11 POINTER HAD ALREADY BEEN ATTACKED BY COYOTES.
BRANDON'S

BEAT AS IF THERE WERE 12 HEARTS PUMPING.
HE QUICKLY TOOK A SHOT AND OOPS A MISS, BUT A QUICK RECOVERY WAS DEADLY ON THE SECOND SHOT. A PERFECT KILL.
WHERE ARE ALL HIS BUDDIES? DOESN'T ANYONE ANSWER THEIR CELL PHONES? COME ON GUYS AND SOON ENOUGH THEY DID. SLOW DOWN BRANDON, TELL US THE STORY. THE PICTURES SAY IT ALL........ ONE ELEVEN POINTER AND THAT GREAT EIGHT POINTER ALONG WITH THE PERFECT SHOT GAVE BRANDON TWO BUCKS WITH ONE SHOT. IN LOUISIANA WE CALL THAT "LAGNIAPPE": A LITTLE SOMETHING EXTRA, EXCEPT THIS WAS A BIG SOMETHING EXTRA!

NOT SOON TO BE FORGOTTEN BY HIM OR ALL WHO WERE LUCKY ENOUGH TO BE THERE WHEN HE BROUGHT THEM IN.
CONGRATULATIONS!!!
PHOTOS TAKEN BY KERRY STACY
PROPERTY OF WIDE WORLD OF HUNTING
NO DUPLICATION WITHOUT WRITTEN CONSENT
CLICK SMALL IMAGES FOR LARGER VIEW
| | | |
| --- | --- | --- |
| | | |
| Brandon-Kyle-Carl | Brandon Descant | Eric Stacy w/Brandon's Bucks |


COPYRIGHT ©
1998-2007 WIDEWORLDOFHUNTING.COM ™, WWH™ , WWOH™ ,
WIDE WORLD OF HUNTING AND THE GREAT OUTDOORS ™, WIDE WORLD OF HUNTING™
DeerDope™ ALL RIGHTS RESERVED