Fleamarket City is offering Custom Mouse Pads Like No Other Fleamarket City Shows You to the World!
NOT JUST CUSTOMIZED BUT PERSONALIZED
CUSTOMIZED MOUSE PADS
Kerry D. Stacy
Taking Orders For Christmas 1-504-464-9066 or email Kerry
Click on Each Mouse Pad for a Larger Sample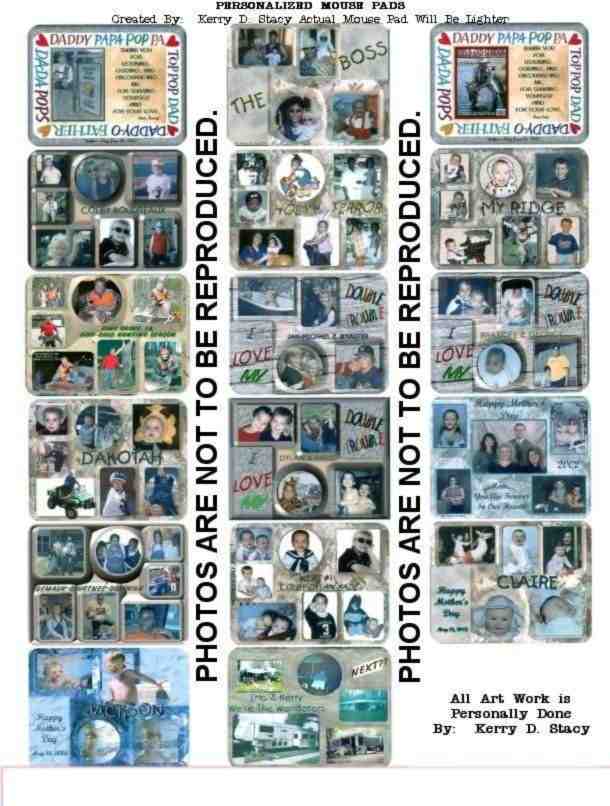 PRINTABLE ORDER FORM TO BE INCLUDED WITH PAYMENT

Pictures should be emailed no larger than 150 kb (.jpg .jpeg-preferred) each. Pictures that need to be scanned should be mailed by U.S. Postal Service or delivery of your choice. I will scan and return original photos with your order.

I use my own prepared templates and all colors that enhance your photos. Keep in mind all photos will be sized to your template selection, so make good choices. If I feel the photo will not be a good candidate for template placement, I will notify you.

Carefully check all spelling for names. I can not make assumptions on written text.

Every Mouse pad above was Created by Me and every customer was satisfied with my decisions on colors and Font Types.

Orders Must be Prepaid U.S. Currency Certified Check or Money Order
Until We Have Pay Pal and Credit Card Orders accepted: Kerry-Ann
Sample will be emailed

4 photo $15.00 + 4.95 shipping and handling*

5 photo 17.00 + 4.95 shipping and handling*

7 photo 20.00 + 4.95 shipping and handling*

* If Items are shipped

These cost are per each. Orders of 2 or more of same pad will be discounted $1.00 each, shipping remains the same.

Louisiana residents are responsible for payment of sales taxes on orders.