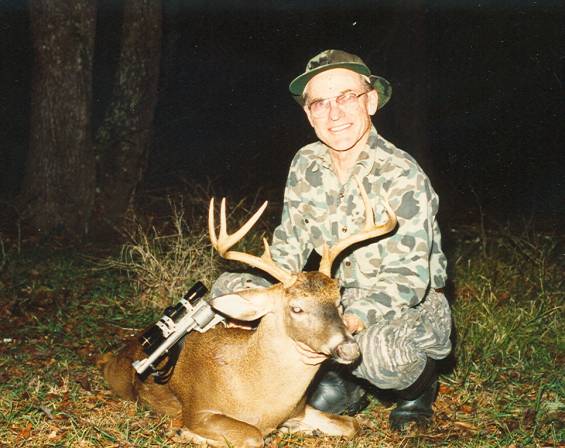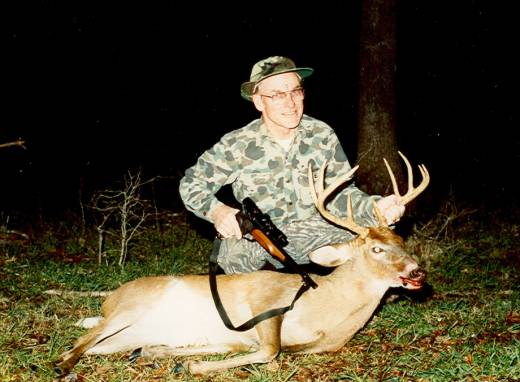 CHRISTENING MORE HANDGUNS
By Don Schroder #2813
In the June 2006 issue, I introduced myself as an ageing, longtime HHI member submitting his first story, Christening the Contender 375JDJ. This tale is about a hunt that christened another Contender in 7-R (7-Rimmed International, a round developed by Elgin Gates for Handgun Metallic Silhouette Shooting), a Freedom Arms revolver in 454 Casull, and the almost christening of a Dan Wesson revolver in 445 Super Mag.
For some years my son, Michael, and I were privileged to hunt as guests on private land south of Montgomery, AL., which was the scene of my previous story. Typically, we were invited for a weekend Turkey hunt, a 4 or 5day archery hunt in that season, and gun hunts over the Thanksgiving and Christmas holidays. These were trips I cherished, looking forward to them all year and enjoying the memories of them for years afterward. They were a welcome break from the demanding responsibilities of my work as CEO of two hospitals and a medical clinic.
But, life isn't always as smooth as you would like it to be. Sometimes there are bumps in the road, as there were this particular hunting season. Health problems forced me to stay home while my usual companions journeyed to our happy hunting grounds. I enjoyed a serious "pity party" while they were there without me.
"All is well that ends well" came to my mind when I received an unexpected phone call from our host. He knew how disappointed I was to have missed the usual hunts and, knowing I had recovered, called to invite me to hunt the last 3 days of the season, accompanied by my son.
The 9 hour drive from our Florida homes seemed to pass quickly as we discussed various spots we might hunt. Arriving on Sunday afternoon, we put the truck in 4 wheel drive and towed the pop-up camper to our usual campsite. There was time for an evening hunt if we hustled, so we deferred some camp setup chores, changed into camo, and carried our climbing treestands to familiar spots without scouting.
I climbed the same tree on the creek bank where I christened my 375JDJ with a 10pt buck. This time, however, I didn't have to remove tough oak limbs with a buck knife. Again, I decorated my climber with some moss to match the background cover, and settled down to wait. Several colorful wood ducks entertained me flying through dense trees at high speed, and later swimming directly below my stand. Nothing else was moving, and it was getting dark as I prepared to lower my backpack. Then, a deer appeared from my left, taking a shortcut across the pasture toward the woods on my right, cutting off the corner where my stand was located. I quickly scrunched down in my stand, placing one foot on the rail, which raised my knee so I could rest the Contender for a steady shot. Though the light was very poor, the 4x Leupold scope allowed me to fix the crosshairs behind the front leg. The muzzle flash in that poor light was almost blinding, but I was able to see the buck run only about 20 yards before falling. The shot was paced at 95 yards. The 120gr Nosler bullet over 39.5gr of H414 powder at 2226fps in my 14" barrel did the trick. This Contender, which previously had killed only steel and paper targets, was now properly christened with a fine 9pt buck.
We skipped the next morning's hunt, spending the time skinning and quartering my buck and completing the setting up of our camp. Since Mike had no luck the previous evening, I asked where he wanted to hunt. He said he would like to try an area unfamiliar to him but where I had hunted, known as the whiskey still because remnants of strange plumbing and barrels were there. We drove our truck to that general area and carried stands the last quarter mile. I showed Mike two spots and gave him first pick. He set up on the edge of a long abandoned Greenfield that was on a small plateau surrounded by swamp and hardwoods. I killed my very first deer from the tree he selected, but it didn't pay off for Mike this afternoon.
I hung my climber on a pine in a small grove of oaks. The ground sloped down to a very small, steep sided creek then back up a pretty hillside covered with hardwoods. In past years, I had some success with both turkeys and deer on that hillside. This time I was out to christen my Freedom Arms 454 Casull, which was loaded with 300gr Hornady XTPs over 32grs of W296 powder with CCI small rifle magnum primers. At 4:30PM, a very nice 8 pt buck walked along the opposite side of the creek. He stepped down into the creek bed and moved to within 45 yards. As he climbed out of the creek, he heard the distinctive click of the Freedom Arms revolver as I cocked the hammer, and he stopped. The shot bowled him over and he fell back into the creek. He struggled in an effort to regain his feet. Wanting to end his suffering quickly and also to prevent his recovering to run, I shot again. The bank of the creek interfered, and I fired a third shot. All that noise brought Mike to ask what war he was missing. Then he photographed me with my 8pt and newly christened revolver. That made 3 handguns christened with 10, 9, & 8pt bucks. I was beginning to believe that all I had to do to get a trophy buck was to buy a new gun. Try convincing your wife of that!
That night we had a lot of rain, resulting in very muddy and slippery conditions. Unfortunately, Mike slipped while hunting in a swampy area and strained his back. He left his stand, and retired to the camper bed. Meanwhile, my incredible good luck continued and I bagged a 6pt, making up on this one trip for having missed most of the season.
We had one more opportunity to hunt, and I told Mike I would retrieve his stand from the swamp and relocate it on the north edge of a pasture where I had observed deer activity, if he felt his back had improved enough for him to hunt. We did that, and I placed my stand on the opposite side of the same pasture and several hundred yards to the east. That afternoon I would try to christen my Dan Wesson revolver in 445 Super Mag., a gift presented at my Retirement.
Just before 5PM, a nice 8pt appeared out of the woods across the pasture from my stand and began a slow walk along the edge, heading west. I couldn't believe my incredible good luck was continuing. Nevertheless, I raised the Dan Wesson, cocked it, and began tracking the buck with the Leupold crosshairs. Was I being greedy? After all, I hadn't been able to hunt all season until this trip. As these thoughts passed in my mind, I realized that buck just might walk all the way down the edge of the pasture to Mike. And, he'd been snake bit thus far on this trip while I rolled in good luck. I lowered the hammer and picked up my binoculars.
As if he was on a string with Mike reeling him in, that buck strolled down the edge as I watched. Shoot, Mike, shoot! Please shoot, I said to myself. The buck dropped as if he was jumping the string on an arrow launched from a bow, then raced back into the woods, and I finally heard Mike shoot. A tremendously successful hunt? Yes, but not the ending we hoped for. When the buck appeared near his stand, Mike was looking in the opposite direction at some does, totally unaware of the buck. As Mike turned back, his coat brushed the tree. That small sound alerted the buck, and Mike's late shot was at the buck running through the trees. Perhaps the outcome would have been different, if only Mike had been christening a new gun.